Deze week hebben wij voor de nieuwe challenge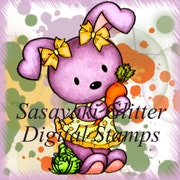 En heb hiermee een shakerkaart gemaakt.
De haasjes zijn met promarkers ingekleurd.
De achtergrond van het shakerdeel heb ik met colister gemaakt.
I made a shakercard with it.
The bunnies are colored with promarkers.
The background from the shakerpart is colored with colister.
Ik hoop jullie vinden het leuk.
Wil je meer inspiratie kijk dan een op ons
BLOG
.
I hope you liked it.
Want some more inspiration take a look at the BLOG.
Lieve groetjes Michelle / Lovely greetings Michelle